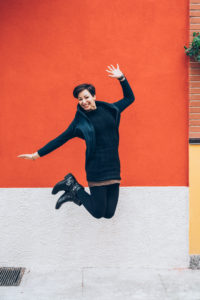 What do you do in order to feel good – and is it working as well as it could? John, chapter 4, is a story about Jesus who is engaged in a conversation with someone I refer to as the "shady lady of Sychar". What is interesting is that this story is really about two people who want to feel good. Jesus is wearied and hungry from the long journey so He sends the disciples for a take-out order of food.
John 4:6-8 (TPT) – Wearied by his long journey, he sat on the edge of Jacob's well. He sent his disciples into the village to buy food, for it was already afternoon. Soon a Samaritan woman came to draw water. Jesus said to her, "Give me a drink of water."
In asking the lady for a drink of water, Jesus discovers that she, on the other hand, has a thirst to feel good about herself – that she knows she can't without help from God. She doesn't know how to go about receiving it.
John 4:25 (TPT) – The woman said, "This is all so confusing, but I do know that the Anointed One is coming—the true Messiah. And when he comes, he will tell us everything we need to know."
The fact that she is at the well to get water in the heat of the day is probably because she wasn't comfortable being around the other villagers given her "reputation". Yet, by the end of the story she feels comfortable enough to approach them. While also at the end of the story Jesus no longer apparently needs the food.
John 4:28 (TPT) – All at once, the woman dropped her water jar and ran off to her village and told everyone,
John 4:32 (TPT) – But Jesus told them, "Don't worry about me. I have eaten a meal you don't know about."
I believe we are all in pursuit of addressing our needs and desires so that we can feel good about our lives, but for most of us, there is a better more satisfying way that can only be accomplished through the feeding of our soul.
Our next series begins this Sunday.
Did you know that God has a soul?

Did you know that caring for your body and caring for your soul are two different things?

Did you know that feeling good can only be sustained through soul satisfaction?